Bisate Lodge offers one of the best luxury experiences in the world. Located in the Volcanoes National Park you can enjoy an extraordinary views of the peaks of the Bisoke and Karisimbi volcanoes where to enjoy an discover the extraordinary gorilla conservation.
No one can describe the beauty of Bisate Lodge until you see it with your own eyes. 
In one of the most beautiful places in Rwanda and surrounded by an immense world of nature, there is a small gem called Bisate Lodge.
Bisate Lodge is located in the amphitheater nature of an eroded volcanic cone, with dramatic views of the peaks of the volcanoes Karisimbi Bisoke and rearing up through Afro-alpine forests. 
Six opulent en-suite forest villas maximize comfort and views while adhering to environmentally responsible principles and reflecting the rich culture of rural Rwanda. 
Bisate Lodge is Rwanda's first genuinely luxurious and eco-sensitive safari lodge, centered on Africa's Most wild primate immersive experience.
Created by Nicolas Plewman, his sophisticated architectural and interior design is rooted in Rwandan building tradition as exemplified in the design of the Royal Palace of the traditional monarch.
The complex reflects the innate organic culture of Rwanda and reflects sophisticated spaces around every turn. Craftily designed the spherical rooms and public areas add bespoke and sustainable solutions to the intricate and difficult surroundings.
This spherical, thatched structure echoes the thousands of hills that dot the Rwandan landscape, while the richly-detailed interiors exhibit surfaces and screens made from a variety of woven materials with strong resonance in Rwandan culture.
A picture is worth a thousand words so here are some of the Bisate Lodge photos, an example of integration with the forest and a tribute to local neighborhood.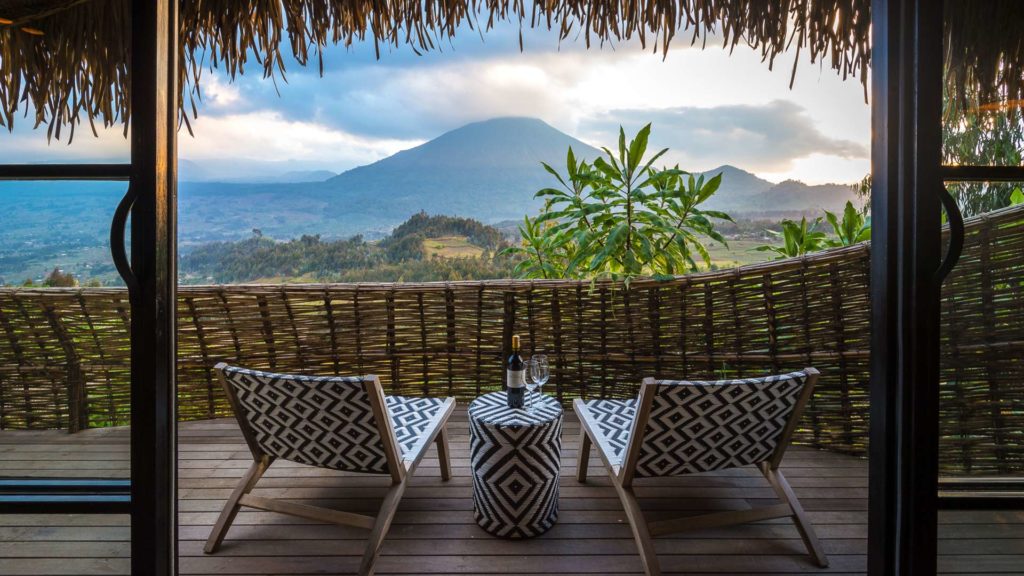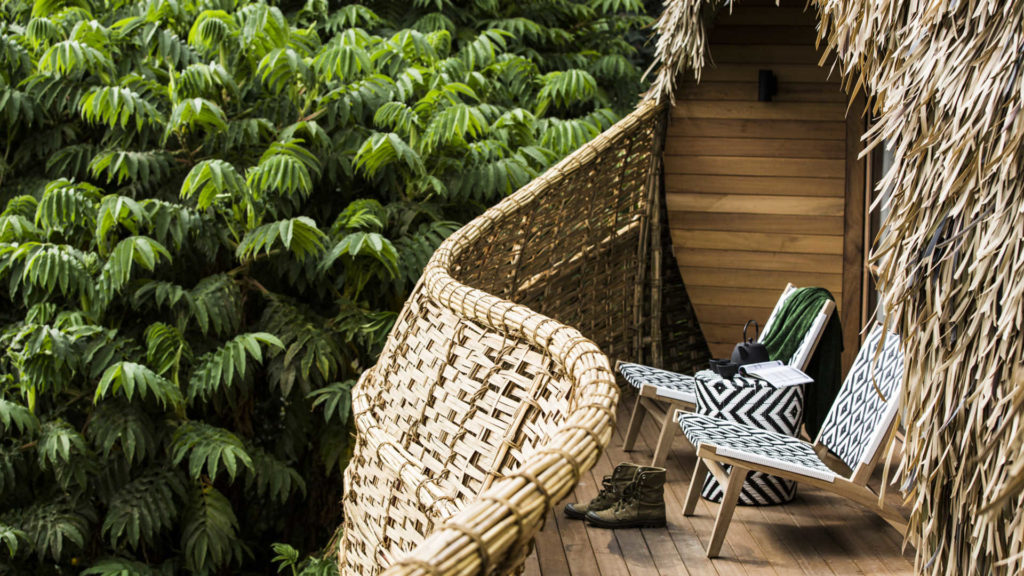 Bisate Lodge Prices & Rates
Bisate Lodge is an all-inclusive formula, so with the price is included all meals, drinks, cocktails, and some wines. Prices & rates ranges from US $1.830 to US $2.810 per person per night sharing.

The cost of a stay at the lodge will depend on the season and the type of accommodation you choose:
Standard Season
$1.830 per person, per night.
Premium Season
$2.810 per person, per night.

Bisate Lodge offers a range of accommodation options, including six spacious guest rooms and one luxurious Presidential Suite. Each room is decorated with locally-sourced materials and features a private balcony with panoramic views of the surrounding forests and mountains.

As Wilderness Safari says, the standard rates are not just about the level of accommodation or the thread count of the linen. They encompass elements that cannot be counted or measured, such as exclusive access to vast tracts of Africa's best wildlife areas, creating a unique sense of seclusion, comfort, privacy and space. In turn, your presence helps them in the conservation of all these areas.

Their dedicated team work together with your travel agent to design a journey that suits your budget and bucket list desires.

If you require more accurate information and the applicable rate to your planned journey, please contact Wilderness Safari Journey Specialist. Note that rates shown in this article may change without prior notice.

For more information and updated prices check the Wilderness Safari website:
For further information, please contact: