Event Venues by MICE Magazine
Event venues are places where a special occasion or event can be held. These venues can range from large, spacious convention centers to small, intimate banquet halls. Choosing the right event venue is crucial to the success of any event, as the venue can greatly impact the atmosphere and overall experience of the occasion.
How much does it cost to rent an Event Venue
The cost of renting an event venue can vary greatly depending on a number of factors, including the location, size, and amenities of the venue, as well as the length of time you will be using the space. Some event venues may charge an hourly rate, while others may offer a flat fee for the entire event.

Additionally, you may be required to pay for additional services such as catering, audio-visual equipment, and event staff. It is important to carefully review the terms and conditions of the event venue rental agreement and to ask for a detailed breakdown of all costs before booking the venue.
What facilities are available at Event Venues?
The facilities available at event venues can vary widely, but some common amenities may include:
Audio-visual equipment: This may include microphones, speakers, projection screens, and other audio-visual equipment necessary for presentations or performances.
Catering services: Many event venues offer catering services, which may include food and beverage options for attendees.
Restrooms: Event venues should have adequate restrooms available for attendees.
Parking: Consider whether the event venue has sufficient parking for attendees, or if alternative transportation options such as public transit or shuttle services are available.
Internet access: If your event requires internet access for attendees or for the use of electronic devices, make sure the venue has reliable Wi-Fi.
Seating and tables: Consider the seating and table arrangements that are available at the venue and whether they will be sufficient for your event.
Event staff: Some event venues may provide event staff such as security personnel, registration staff, and event coordinators to assist with the smooth running of the event.
Decorations and lighting: Some event venues may offer decorating and lighting services to help set the mood for your event.
Emergency exits and first aid: Make sure the event venue has appropriate emergency exits and first aid facilities in place for the safety of attendees.
There are many different types of event venues to choose from, depending on the type of event you are planning and the number of attendees. Some examples of event venues include:


Hotels: Hotels often have a variety of event spaces available, including conference rooms, ballrooms, and outdoor spaces.
Convention centers: Convention centers are large, multi-purpose facilities that are often used for trade shows, conferences, and other large events.
Meeting rooms: Meeting rooms are smaller, more intimate spaces that are often used for business meetings or small group events.
Banquet halls: Banquet halls are large, formal spaces that are often used for weddings, proms, and other formal events.
Museums: Museums and other cultural institutions may have event spaces available for rent, such as galleries or auditoriums.
Outdoor spaces: Outdoor event venues may include parks, gardens, beachfronts, or other natural settings.
Sports venues: Sports venues such as stadiums or arenas may be available for rent for events such as concerts or corporate events.
Bars and restaurants: Many bars and restaurants have event spaces available for private parties or corporate events.
How to choose the best Event Venues
When searching for an event venue, there are several factors to consider.
First and foremost,
the size of the venue should be appropriate for the number of guests attending the event.
A venue that is too large may feel empty and lack intimacy, while a venue that is too small may feel cramped and uncomfortable.
The location of the venue is also important.
It should be easily accessible for all guests, with ample parking and public transportation options. The venue should also be in a safe and reputable area.
In addition to the physical characteristics of the venue, it is important to consider the
amenities and services offered
. Does the venue have a professional event planning team to assist with the details of the event? Does the venue provide catering and refreshment options, or will these need to be arranged separately? Is the venue equipped with state-of-the-art audio-visual equipment for presentations or performances?
Once the necessary criteria have been determined,
it is important to visit potential event venues in person to get a feel for the space and ensure it meets all of the requirements.
It may also be helpful to read online reviews and speak with other event planners who have used the venue in the past.
In conclusion, here are our 5 crucial elements to consider when choosing the perfect event space to ensure a memorable and enjoyable event for all guests.
Location: The location of the event venue should be easily accessible and convenient for attendees, and should also be suitable for the type of event you are hosting.
Capacity: Make sure the venue can accommodate the expected number of attendees, as well as any additional requirements such as seating, standing room, and parking.
Facilities: Consider the facilities offered by the venue, such as audio-visual equipment, catering services, and restrooms.
Budget: Determine your budget for the event and choose a venue that fits within your budget constraints.
Safety: Safety should be a top priority when choosing an event venue. Make sure the venue has appropriate safety measures in place, such as fire exits and emergency lighting.
Some examples of Event Venues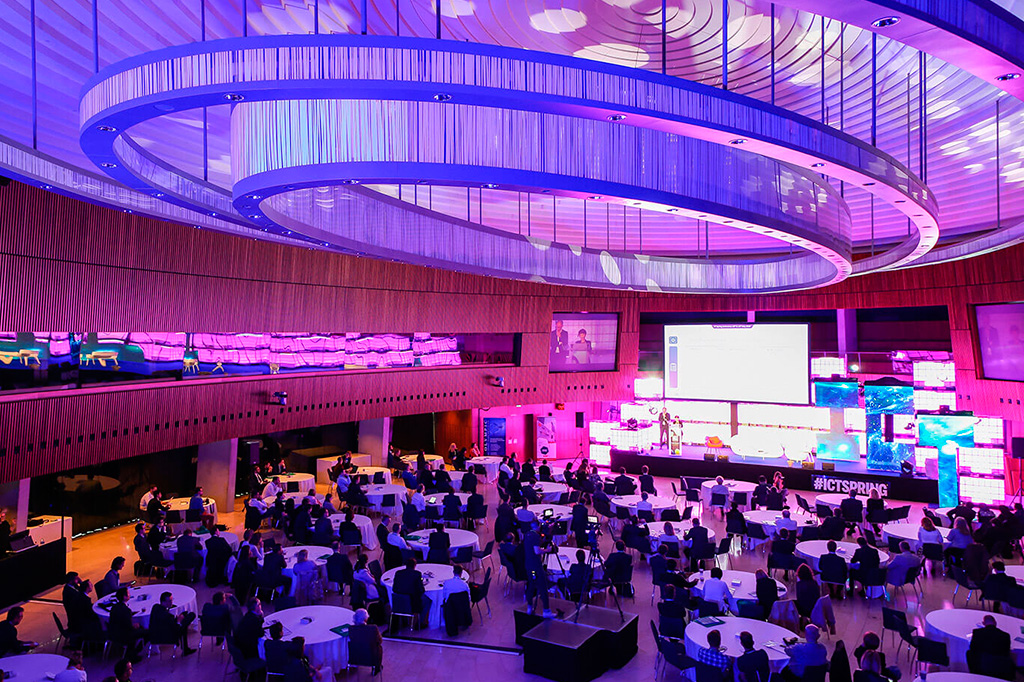 European Convention Center Luxembourg
Founded in 1997, ECCL's extensive experience in organising meetings and events is synonymous of guarantee and quality and their professionalism is beyond doubt.

Thanks to its extensive experience and range of spaces, the European Convention Center Luxembourg can adapt to all types of congresses, conferences, exhibitions and company conventions, and the organiser can count on the so-called Easy Event Plus Package in which ECCL guarantees top-quality services as the high end technical equipment with a technician on site, security service, cleaning and disinfecting of spaces, high-speed and customisable wi-fi and parking for VIPs and organisers, among others.
The Kigali Convention Centre is one of the largest in the region. It's multi-functionality and various facilities assist in hosting major exhibitions, conferences, summits, sports and social occasions, or the most cozy boardroom meetings.

With a net floor area of 32,200 m², the Kigali Convention Centre (KCC) can host more than 5,000 delegates at a time and contains facilities for business, leisure and events. The Kigali Convention Centre is the premium events venue in Rwanda since its opening in 2016 and a hugely popular MICE destination in the East African region.
Located in Costa Brava, Girona (Spain), Hotel Can Xiquet offers companies services and facilities to meet their needs when organising any kind of corporate event, such as business meetings, conventions, board meetings, team building meetings, product presentations, congresses, seminars, symposiums or conferences.

Can Xiquet Events Centre has four multipurpose halls for functions that are fully equipped, with surface areas ranging from 60 m² to 330 m². The Mirador Hall has spectacular views of the Empordà region.