If you're looking for a MICE destination that offers the best of both worlds, look no further than the Casablanca region. This dynamic and appealing region is not only a melting pot of cultures and religions, but it is also a thriving business hub.
With 31% of Moroccan companies choosing the region for its economic attractiveness and excellent infrastructure, it's no surprise that the Casablanca region has a record rate of attracting foreign investments, standing at 47.7%. It's the perfect destination for businesses looking to expand and grow.
If you're looking for a MICE destination that offers both culture and commerce, the Casablanca region is the perfect choice.
The Casablanca region isn't just a place for business. It's also a leading destination for business tourism, medical tourism, shopping tourism, and trade fair tourism. With its diverse offerings and world-class facilities, it's the perfect place to host any event.

If you're looking for a MICE destination that caters to an increasingly diverse and cosmopolitan audience, look no further than the Casablanca region. As the economic powerhouse of the kingdom, the region offers modern infrastructure and facilities, as well as a countryside that makes it a prime tourist destination.

The establishment of Casablanca Finance City, an African financial hub, has further strengthened the region's position as a destination for investors and professionals. But it's not just business that the region has to offer. With 235 kilometers of beaches, 6 prestigious golf courses, 4 dams suitable for water sports, and a favorable environment for rural tourism, there's something for everyone to enjoy.
When it comes to accommodation, the region offers a variety of options with more than 22,000 beds available in ranked establishments. Several new hotels are currently being developed, including the renovation of the legendary Lincoln Hotel and the reconstruction of the Royal Mansour Casablanca.

With its growing appeal, its many modern activities, its exceptional natural spots, its accessibility and hospitality, its culture of hedonism by day and by night, the Casablanca region has what it takes to win the hearts of national and international travelers. So step over the edge and welcome to Casablanca.
Whether you're looking for a business or chill experience, the Casablanca region is the perfect destination.
Casablanca
as a MICE destination
The African business capital
The driving force behind Morocco's economic momentum, itself embodying the continent's renewed potential.

Cutting edge infrastructure
Transportation, security, health, recreation… nothing is left to chance.

A regional, national and global hub
A high connectivity region with excellent national and international connections.

A premium hotel offering
The most renowned institutions have established themselves in the region.

A wide range of conference venues
A selection of venues to accommodate all your business and festive needs.

A high connectivity region
1h00 from Rabat, 2h30 from Marrakech, 3h25 from Fes, 4h30 from Essaouira and 2h10 from Tangier (via Al Boraq).
Day or night
A region that never sleeps, enlivened by a wide selection of restaurants, discotheques and clubs.


Craftsmen and shopping centers
The largest international franchises and master craftsmen work side by side in the metropolis.


Golf in the limelight
Are you a fan of green spaces and fancy sports? A wide range of golf courses are just around the corner.


A seaside metropolis
The region is brimming with fine sandy beaches and infrastructures dedicated to admirers of the deep blue sea.


Gateway to Morocco, Africa … and the world.
Nearly 50 airlines provide connections between Casablanca and more than 100 destinations in Africa, America, Asia and Europe.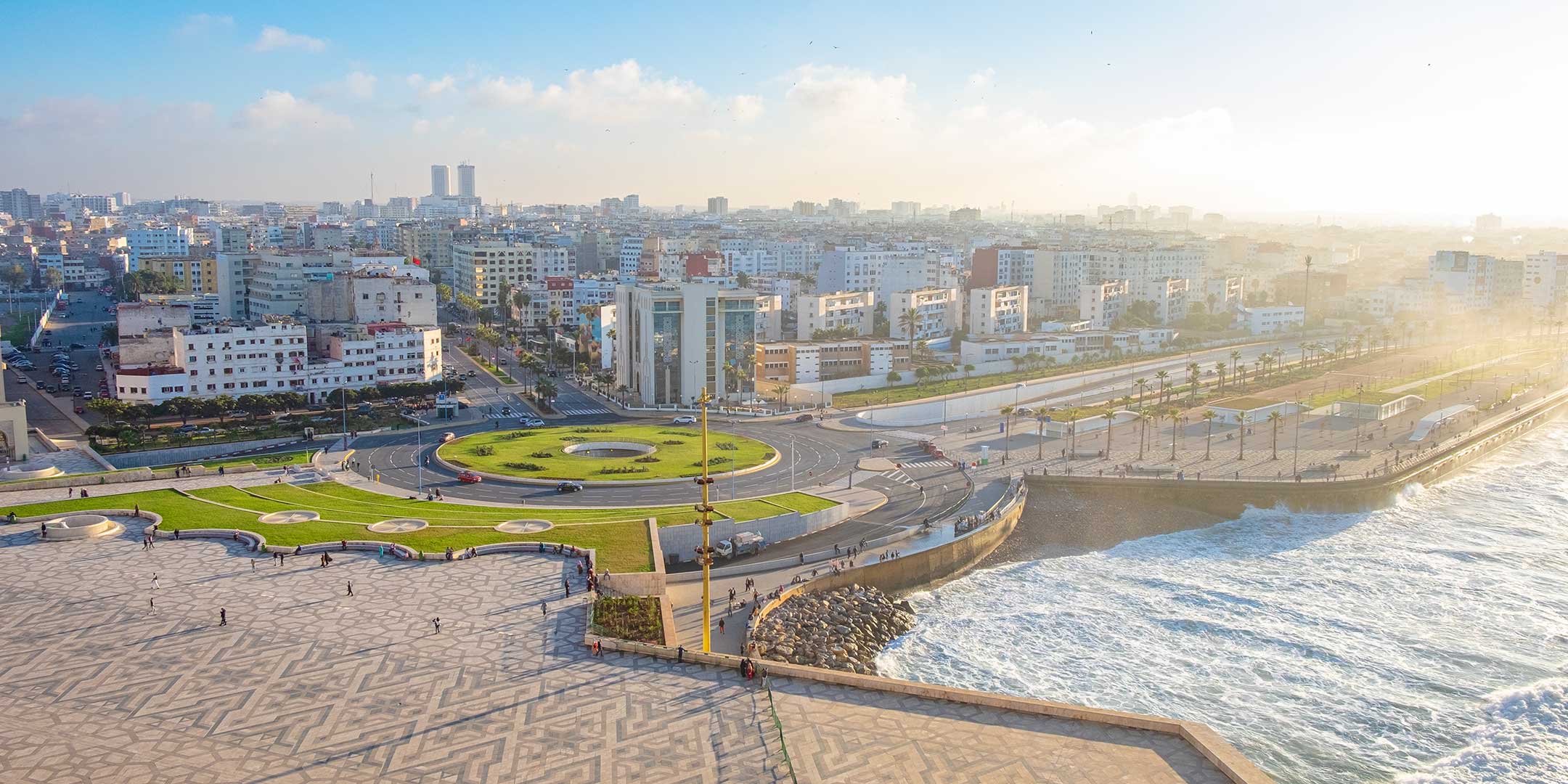 Casablanca is also the gateway to Africa and the world, with its international airport through which more than 14 million passengers transit every year.

Nearly 50 airlines provide connections between Casablanca and more than 100 destinations in Africa, America, Asia and Europe.

1 to 2 hours from Madrid, Lisbon, Barcelona, Málaga ...
3 to 4 hours from Paris, Geneva, London, Brussels, Frankfurt, Rome, Dakar, Nouakchott, Niamey ...
5 to 7 hours from New York, Montreal, Cairo, Beirut ...
Conference & Meeting Venues
Mohammed VI Exhibition Park
If you're looking for a MICE destination with ample space for large-scale events, Casablanca is the perfect choice. The city features several large-capacity exhibition parks, starting with the Mohammed VI Exhibition Park, located near El Jadida. This 29-hectare space is a national reference, known for its accessibility, adaptability, and aesthetics, making it the perfect venue for any event.
In Bouznika, just a stone's throw from the Atlantic Ocean and close to Mohammed V airport, the Business Center by Bahia offers an ideal setting for a variety of professional events. The center includes meeting rooms, conference rooms, congresses, and a Club House, making it a versatile option for any event organizer.
The Office des Foires de Casablanca
The Office des Foires de Casablanca is also an excellent choice, located in the heart of the city, close to the sea, and the Hassan II mosque. For added convenience, the conference center is also located near the highway leading directly to the airport. With its ample space and modern facilities, Casablanca is the perfect destination for any event, big or small.
A wide selection of rooms and multimedia rooms
With a wide selection of rooms available in several hotels and dedicated establishments, you'll be able to find the perfect venue for any occasion. Whether you need a forum, conference room, trade show space, or seminar room, you'll find it all at the Casablanca-Settat region!.

Fully equipped and meeting the latest technological standards, these venues guarantee an excellent development and setup for your events. And with experienced audiovisual technicians at your disposal, you'll be able to rely on expert support and recommendations to ensure that your event is a success.

But the region's offerings don't stop there. With several multimedia rooms available, including the Casablanca Twin Center auditorium, Multiplex Mégarama, and Agora complex, you'll have access to modern infrastructures and all the necessary technical and human resources to create a colorful and emotional experience for your guests. And for a truly unique experience, take a step back in time and immerse yourself in the magic and nostalgia of the 1960s with a visit to one of the region's restored and re-equipped old theaters, such as the Lynx and the Rialto.
The options for the MICE industry are endless in Casablanca region, so why not come and discover it for yourself?
The Casablanca-Settat region offers a wide range of accommodation options with 22,000 classified hotel beds and over 5,000 beds in furnished apartments.

The region have 18 new hotels (4 and 5 stars) and is also expanding its capacity with residences under construction, adding an additional 2,200 beds to the region.
Welcome to a world of luxury, comfort, and convenience in Casablanca
Casablanca and its surroundings are home to some of the world's largest and most reputable hotel chains. This booming development is driven by the region's favorable business climate, which supports the hospitality industry and the organization of professional and institutional events. The top-notch hotels in the area meet the highest standards of quality and offer a wide range of services, from dining and wellness to sports, transportation, and tourism.

The region also caters to those looking for more budget-friendly options, with a diverse range of 2 and 3-star hotels. Whether you're a mobile team or planning a corporate convention, the region's dense network of hotels ensures that you'll find the perfect accommodation to suit your needs.
Technical and events expertise
The Casablanca-Settat region is home to some of the most luxurious hotels, offering not only comfortable accommodations but also an array of complementary services. Guests can indulge in concierge services, spa treatments, fitness sessions, and delicious dining experiences at the hotel's restaurants and rooftop terraces.

The region's hotels also feature state-of-the-art conference rooms and ballrooms, suitable for hosting all types of events and receptions.

But what truly sets the region's hotels apart is the exceptional service provided by the highly trained and dedicated staff. The locals take pride in providing guests with an unforgettable experience, making the region a top destination for travelers.
The hospitality industry is not just a profession in Casablanca, it's a passion.
If you're looking for a destination that truly understands the art of event planning, DMCs are at your service
Casablanca-Settat is a destination that truly understands the art of event planning and execution. The local DMCs, or Destination Management Companies, are experts in their field and offer a wealth of knowledge and experience to help plan and execute your next event.

From pop-up stores and round tables to conferences, product launches and political congresses, the region is well-equipped to handle any type of event. And with a variety of technical and human services available, companies can rest assured that their needs will be met.


But it's not just the technical side of things that makes Casablanca-Settat stand out – the region's technicians are renowned for their creativity and ability to create truly unforgettable events. From connected platforms and sound and light to virtual reality and teambuilding activities, the possibilities are endless. And with seasoned professionals at the helm, you can be sure that your event will be executed flawlessly.
Immerse yourself in the rich culinary experience and discover the many delights waiting for you.
Moroccan gastronomy is a highlight of Casablanca-Settat, renowned for its diverse flavors, spices, and influences from Arab, Andalusian, European, and Berber cuisine. From street food to fine dining, the region offers a delicious blend of sweet and savory dishes, including the iconic tagine, couscous, pastilla, mechoui, and fresh ocean fish.

Whether you prefer a quick bite from a street vendor or a luxurious dining experience, Casablanca-Settat is a foodie's paradise. Treat your taste buds to the exotic spices and flavors of Morocco, and savor every bite of the delicious cuisine in this vibrant region.

Casablanca-Settat is a hub for foodies, offering a diverse selection of top-notch restaurants that cater to the finest tastes and palates. With its cosmopolitan vibe, Casablanca draws inspiration from a variety of international cuisines to create a unique culinary experience.

From warm and inviting traditional eateries to historic French restaurants, and from modern and trendy establishments to creative fusion restaurants, Casablanca has it all. From antipasti and pasta, to Latin tapas, Chinese soups, Japanese sushi, hamburgers, shawarmas, and oriental mezzes, the city offers a true feast for the senses and is a crossroads of flavors and good taste.
For further information, fill in the following form to be contacted and make sure to download the online brochure for more informations!